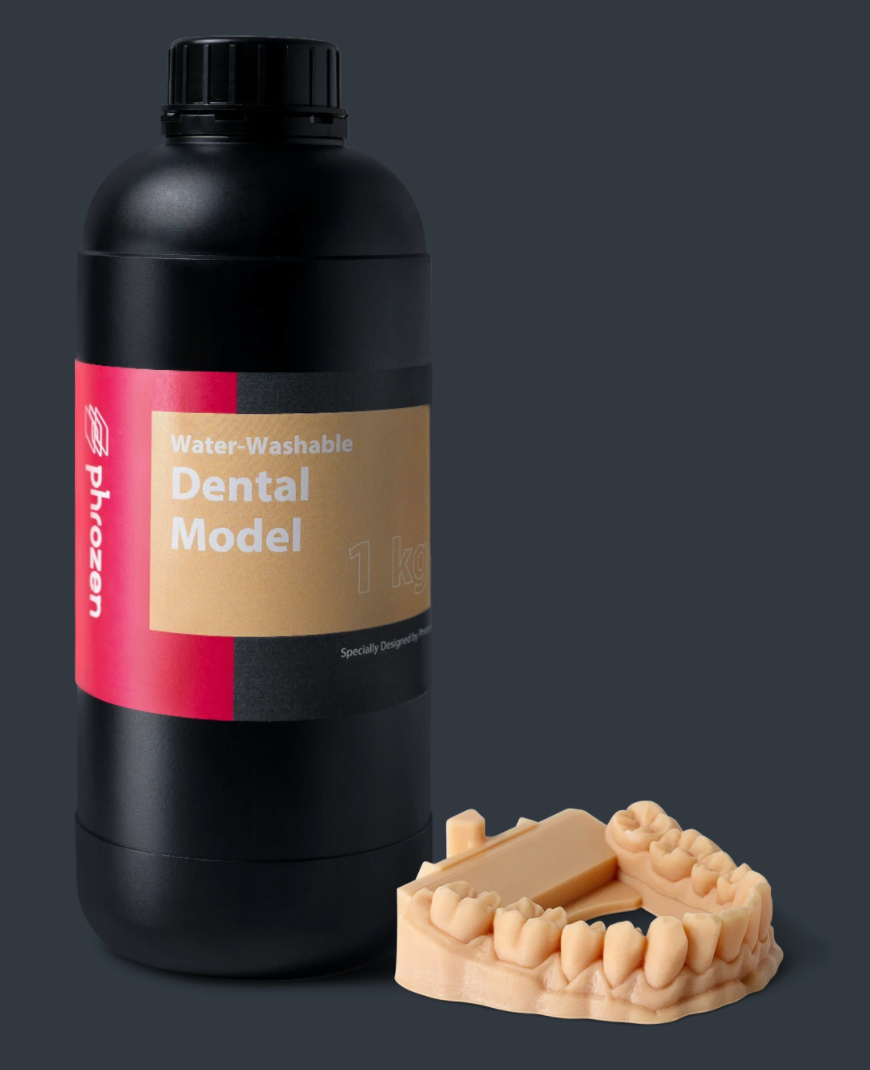 Phrozen Water-Washable Dental Model 3D Printer Resin 1kg
Regular price
CHF 100.00
/
---
Low stock - 1 item left

Inventory on the way
Phrozen Water-Washable Dental Model Resin has been specifically developed to rapidly produce highly accurate dental models.
With its Water-Washable features, you don't need any post curing equipment to clean the 3D printed model.
Weight: 1KG per bottle
Flexural Strength: >1875 MPa
Flexural Modulus: 3.04 KJ/m2
Hardness: >75 Shore D
Viscosity: 0.771 Pa·s
Use and preserve resins in room temperature, dark, and ventilated condition.

Shake well before use.

After printing, please keep used resins in a closed & opaque bottle. Avoid mixing used resin with new resin.

Keep resin away from kids and away from direct sun-light exposure.
Wear gloves and masks when using resins. Wash with plenty of water if you get direct skin contact or eye contact with resins.
DO NOT dump resin. Please cure it and treat it as general plastic garbage.
After receiving your Phrozen resins, we strongly recommend you finish it as soon as possible as unopened resins only have a shelf life of one year
【Remove Residue with Ease】Phrozen Water-Washable Resin is designed to be easily rinsed by water which means that you no longer need any ethanol and IPA to clean up your resin 3D prints.

【High Accuracy】With a Medit intraoral scanner, more than 90% of variation falls within ±0.05mm on dental 3D models created by Water-Washable Dental Model Resin.

【Low Shrinkage & High Precision】With low deformation or shrinkage, this resin is ideal to create a perfect match between dental models with removable dies; ensuring that no printed parts ever change in shape.

【Low Viscosity】Phrozen Water-Washable Dental Model Resin is easy to print with and can be post-processed easily thanks to its low viscosity levels.

【Low Odor】Say bye-bye pungent smells as Phrozen Water-Washable Dental Model Resin won't make your place reek of resin fumes.
* Phrozen provides a wide range of resins that can be used for a variety of purposes. Please refer to this link to see which resin is best suited for your needs. 
*IMPORTANT* All prevailing tax/VAT will not be included during checkout, pls ensure that you understand your tax/VAT requirements