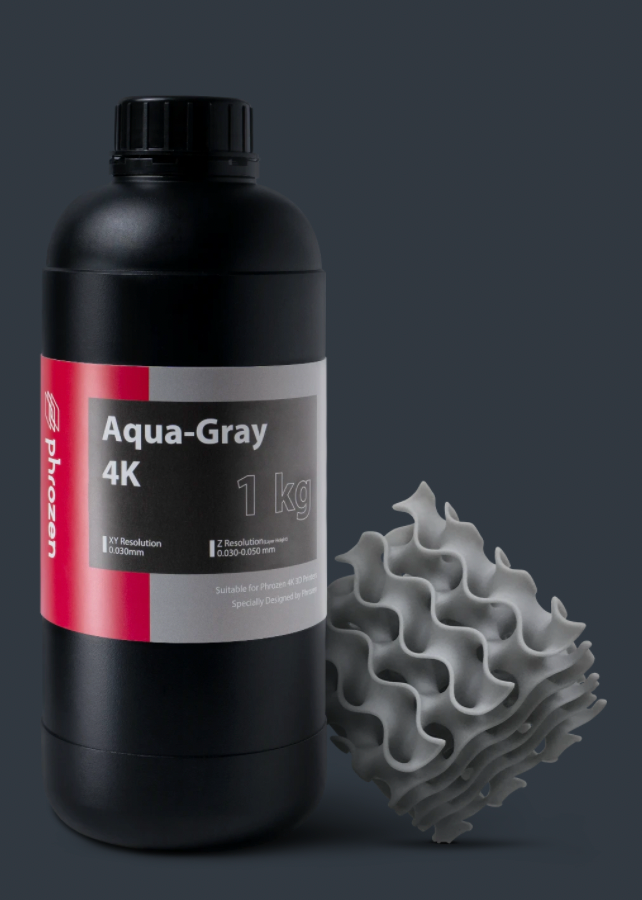 Phrozen Water-Washable Resin
---
Low stock - 3 items left

Inventory on the way
Designed to be easily cleaned by water, Phrozen's Water-Washable Resins are sturdy, durable, and print with speed.

Customized for a 405nm LCD printer, the Water-Washable Resin takes only 7 seconds for cure time using the Shuffle XL and 1.5 seconds using Phrozen's Sonic printers.
This resin works best for printing 3D figurines as well as product prototypes.
Weight:
Model Gray 1KG per bottle
XY Resolution:
 3
0 µm
Recommended Layer Height:
30-100 um
Ways to Rinse:
Clean with water & spray with air gun. 
Viscosity:
125 cps
Proportion:
1.05
Tg:
60 °C
Elongation:
 2
4 %
Break Value:
12 MPa
Surface Hardness:
Shore 77D
I-Zod Impact:
3.04 KJ/m2
Use and preserve resins in room temperature, dark, and ventilated condition.

Shake well before use.

After printing, please keep used resins in a closed & opaque bottle. Avoid mixing used resin with new resin.

Keep resin away from kids and away from direct sun-light exposure.
Wear gloves and masks when using resins. Wash with plenty of water if you get direct skin contact or eye contact with resins.
DO NOT dump resin. Please cure it and treat it as general plastic garbage.
After receiving your Phrozen resins, we strongly recommend you finish it as soon as possible as unopened resins only have a shelf life of one year
*IMPORTANT* All prevailing tax/VAT will not be included during checkout, pls ensure that you understand your tax/VAT requirements